Specializing in Used Corvette Parts from 1968 to the Present
Search the area's largest used parts and accessories salvage yard for Corvettes and late model Chevy Camaros, Impala SS, Trailblazer SS, Pontiac Firebirds, GTOs, and Cadillac CTS-V.
Contemporary Corvette, in Bristol, Pa, has the largest and best selection of Corvette Parts. Contemporary has all parts for all models of Corvettes, including C4, C5, C6 and C7 Parts. We stock new and used corvette parts, and all parts are pulled and shipped right from our salvage lot.
If you're looking for Corvette Motors and Engines, transmissions, drive trains, interior and exterior parts, check out our site or call us today at 1-800-367-8388 to see if we have the right part for your prized Corvette.
If you have any more questions, please check out our FAQ Page.
84-90 Corvette C4 Gas door Emblem Reproduction 14060260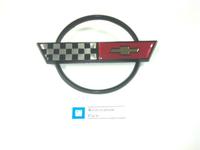 68-82 Corvette Door Hinge Pins With Bushings